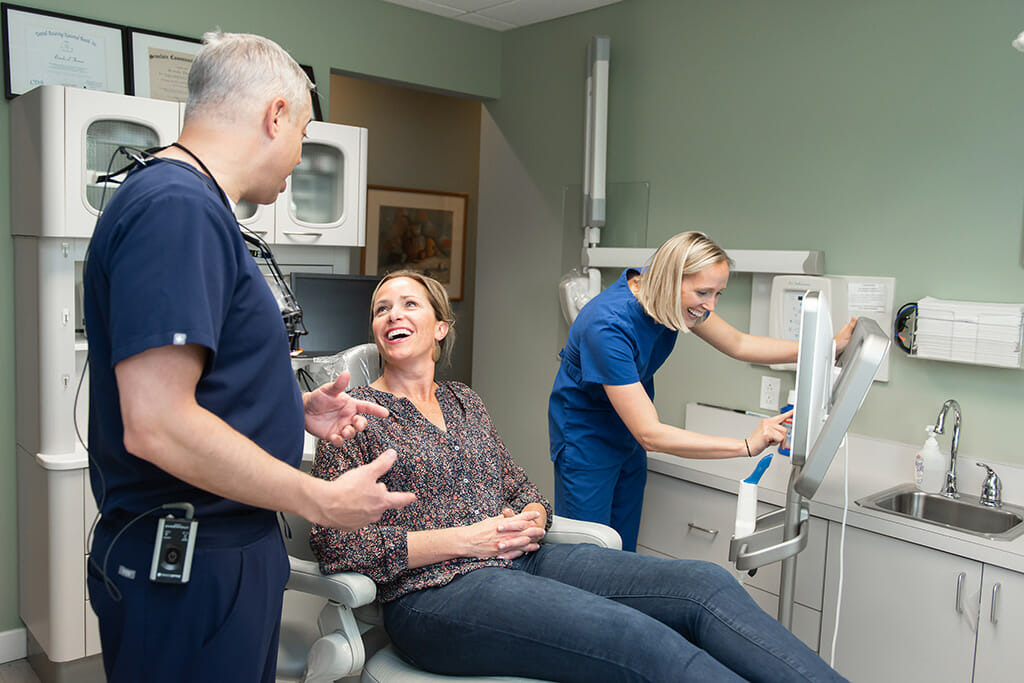 For those who are missing several or all of their teeth, dentures can provide an excellent tooth-replacement option. Thankfully, dentures are not like they used to be. They are more comfortable, more reliable, and more natural-looking than ever before. At Coyne Dentistry, we can help you find the perfect set of dentures to restore your smile!
What Are Full and Partial Dentures?
Full dentures replace all of the teeth in a dental arch. We may recommend this option to replace the teeth in both arches or just one. These kinds of dentures are made from high-quality plastic and are held in place by a natural suction effect between your device and gums. If you find that your dentures are moving around too much or are falling out, we may recommend a special dental glue to hold them in place instead.
We use partial dentures to replace several teeth in a row. Unlike full dentures, they are usually held in place with wires and brackets. Unlike dental bridges, which can only support two or three missing teeth at once, partial dentures are perfect for those missing some, but not all of their teeth.
Are Dentures Removable?
Yes, most full and partial dentures are removable. This makes them easy to wear and care for. In some cases, a denture may be attached to an implant or cemented into place using the adjacent teeth for support. These types of dentures are "fixed" and are not removable. During your consultation, we will explain each type of appliance and its benefits.
Do I Need Dentures?
If you are missing several or all of your teeth in a dental arch, you may need dentures. Dentures can restore the appearance of your smile while helping you speak, eat, and chew normally again.
However, dentures are not for everyone. Depending on your personal goals, oral health, and the number of teeth that need to be replaced, another option may be better for you. Before moving forward with this treatment, we will conduct a consultation and a thorough exam. Your dentist will discuss all of your options to determine if dentures are right for you.
How Do I Care for My Dentures?
With care, dentures can last for years. Just like natural teeth, dentures should be cleaned every day to keep your mouth healthy and free of bacteria. Over time dentures can become stained and develop a build-up of plaque and tartar. To avoid this, brush your device daily with a soft-bristled brush. Be sure to use a product designed for dentures to avoid damaging them.
Rinse your dentures after every meal and keep them moist when you are not wearing them. If they become too dry, they might crack and break. If you have trouble keeping your dentures in place or if they do not fit any longer, call us right away. As your gums and oral structure changes over time, your dentures may need to be adjusted or replaced.
If you think you may be a candidate for dentures, call our office today at 937-298-2424. Together, we can decide if dentures are right for you!