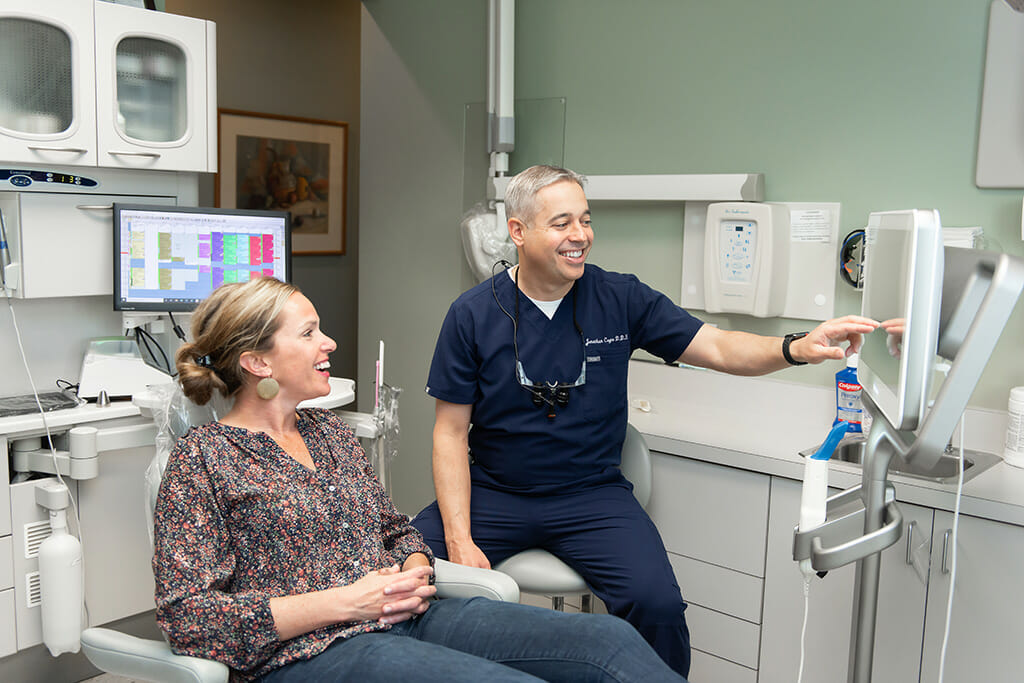 Dental problems can be frustrating and painful. Unfortunately, there is often nothing you can do to prevent a serious injury or illness. That's why when life catches you by surprise, we are here to help! Here at Coyne Dentistry, our team is equipped to treat nearly any dental issue. We are proud to offer a wide variety of restorative services to repair damaged teeth, provide tooth replacements, and treat infections and decay. We never cut corners or sacrifice quality. By using modern technology and techniques, we can provide exceptional results for the entire family!
What Do You Offer?
At Coyne Dentistry, we offer several comprehensive services to repair and restore your smile. Whether you have lost a tooth, need a root canal, or are suffering from gum disease, we are committed to maintaining your oral health.
Our restorative services include:
There is no reason to live in pain and discomfort. Together, we can help you and your family feel as good as new!
What Are Dental Implants?
Dental implants provide a sturdy, natural-feeling tooth replacement option. For this treatment, metal posts are surgically attached to the jaw bone. As they heal, the implants will begin to merge with the bone. This gives the replacement tooth an added layer of stability, while simultaneously promoting bone growth.
After the implant has healed, we will place a permanent crown on the post just above the gum line. The entire process takes several months. However, once your final crown has been placed, your new tooth will look and feel just like new!
What Is the Difference Between Bridges and Dentures?
We use dentures and bridges to replace missing teeth. We generally use bridges to replace one, two, or three teeth. Dentures, on the other hand, are most often used to replace several teeth in a row, or all of the teeth in a dental arch.
With a dental bridge, a replacement tooth is held in place over the gap left by a missing tooth. The replacement is supported by the two healthy teeth on either side. Dental bridges are strong and natural-looking but do not have an artificial root system unless implants are used.
Dentures are removable and are commonly used to replace all or most of the teeth in a dental arch. They can be held in place with brackets and wires, dental glue, or implants. There are several types to choose from, making dentures a versatile treatment option.
What Else Do You Treat?
Gum disease and tooth decay are two of the most common dental illnesses among American adults. If we can catch these issues early, they can be easily treated. However, if an infection spreads, you may need surgical treatment. Our team uses modern techniques, sedation dentistry, and high-quality laser technology to treat these illnesses efficiently and painlessly.
If you or a family member is suffering from tooth damage, tooth loss, or infection, call our office today at 937-298-2424 to schedule an appointment.