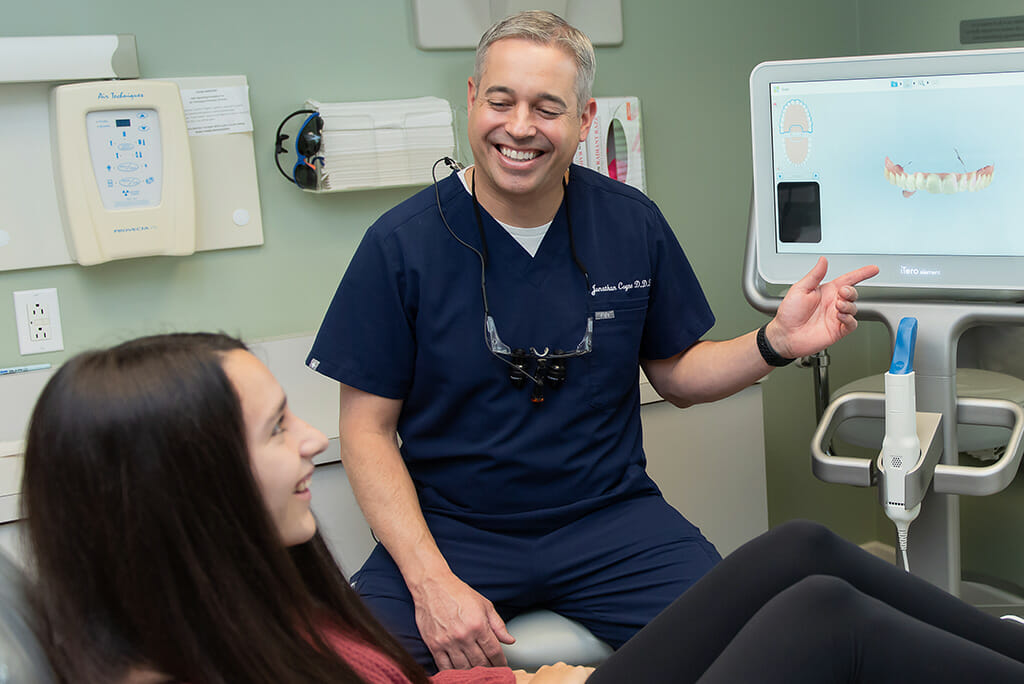 Dental implants are a wonderful solution for patients who are missing one or more teeth and want a permanent tooth replacement. Implants are durable, reliable, and look and feel just like natural teeth. At Coyne Dentistry, we can use dental implants to beautifully restore the appearance and functionality of your smile!
What Are Dental Implants?
Dental implants are made from small titanium screws and posts that are attached directly to the jawbone. Titanium is a bio-friendly material that is often used in other medical procedures such as hip and knee replacement surgeries. With this material, you won't have to worry about having an adverse reaction to your new implant.
The bottom portion of your implant, which is attached to the jaw bone, will remain below the gum line. Over time, your implant will merge with the bone – providing extra support and promoting bone growth! The top half of the device – the post – will protrude above the gums. After you have fully healed from your implant procedure, we will place a permanent crown onto the post. This crown will act as your new tooth.
What is the Procedure?
For this procedure, we will recommend you to a qualified dental surgeon. We work closely with several of the top surgeons in and around Kettering, Ohio. We only recommend the best, so you can feel confident that you are in good hands.
It may take four-to-six months to fully recover from this procedure. After your mouth has healed, we will craft a customized crown to place over the implant. For the most natural look, we will design your crown to have the same shape and color as the rest of your teeth. Once your crown is in place, you will be able to eat, speak, and chew normally!
Are Dental Implants Permanent?
Yes! As your mouth heals, your jawbone will fuse to the titanium implant and your gums will heal around the post. Dental implants are the most permanent tooth replacement option.
How Do I Care for My New Tooth?
Your implant will be topped with a beautiful porcelain or ceramic crown. Although crowns are durable, they can still become damaged or discolored. To maintain your new tooth, please do not chew on any hard foods or substances.
Care for your implant like you would care for your natural teeth. Brush and floss daily. When possible, use dental products that contain fluoride. To avoid discoloration, do not smoke or consume tobacco products. Avoid dark-colored foods and drinks such as wine, tea, and coffee.
Do You Restore Implants?
Yes! We are proud to offer implant restoration services. If your implant or crown becomes damaged, please call us right away. Our skilled team is committed to helping you maintain your new tooth for a lifetime!
If you would like to learn more about dental implants and other tooth replacement options, please call our office today at 937-298-2424. We would be happy to answer any of your questions or schedule a consultation.