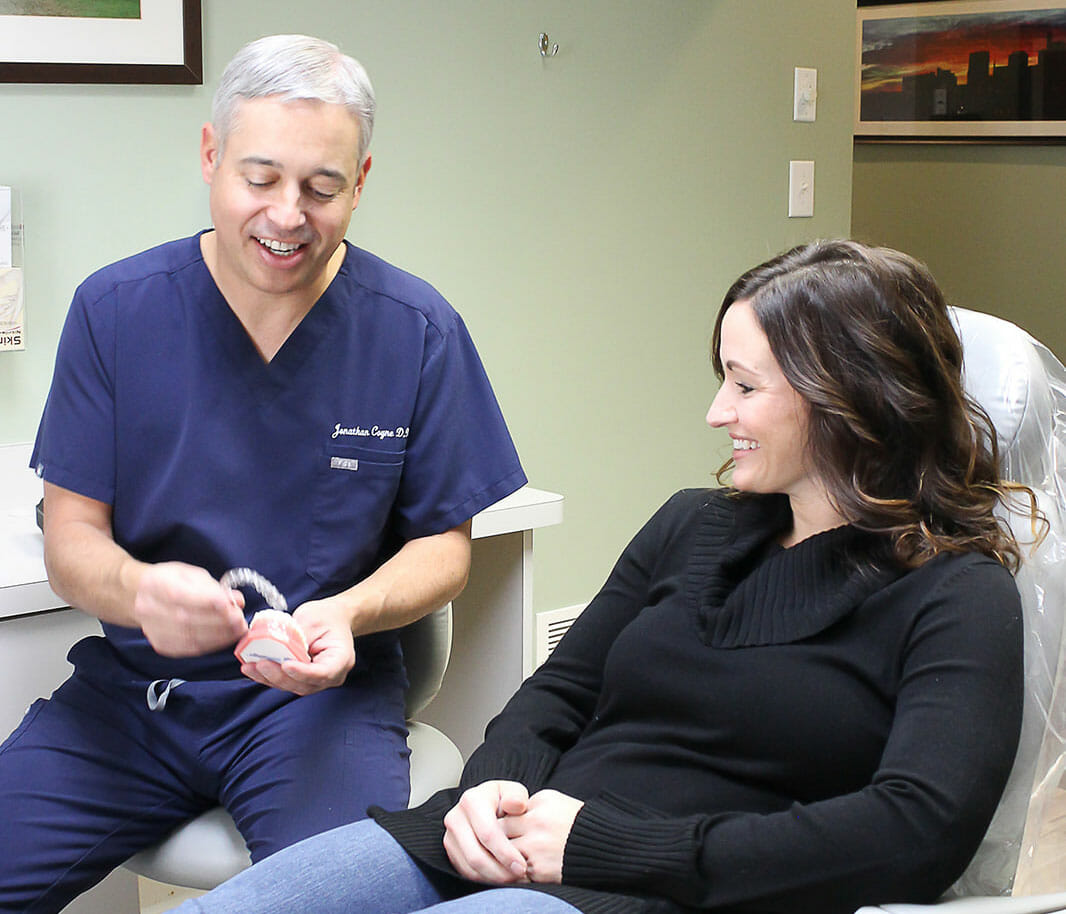 Coming into our office for a regular visit is one of the most important parts of maintaining a healthy smile. During your bi-annual visit, we will thoroughly clean your mouth while looking for signs of possible health issues. Problems like oral cancer, tooth decay, and gum disease can usually be treated if they are caught early enough. Some conditions – such as lupus and diabetes – may exhibit early symptoms in the mouth. Routine cleanings and exams play an important role in preventive dental care!
What Will My Visit Include?
Your visit will begin with a professional cleaning by one of our friendly hygienists. During your cleaning, your hygienist will remove any plaque and tartar that has built-up on the surface of your teeth and along your gum line. This will help reduce your risk of periodontal (gum) disease. Your hygienist will also carefully clean and floss your teeth. As they do this, your hygienist will look for signs of cancer, cavities, infection, and other potential problems.
After they are finished cleaning, we will begin your examination. If your hygienist found anything concerning, they will inform your dentist to ensure it is not overlooked. During your exam, we will check your jaw, facial muscles, teeth, gums, oral tissues, and throat. If necessary, we may recommend intraoral imaging or digital X-rays to examine hard-to-reach areas of the mouth.
After your exam, your dentist will discuss their findings and will provide you with a diagnosis and treatment recommendation – if necessary. We will also provide you with a hygiene kit to take home with you after your visit.
What Will You Look for During the Exam?
There are a wide variety of dental concerns that your dentist will look for during your exam. In addition to normal dental illnesses, we may be able to find symptoms of other diseases, such as diabetes, in the mouth as well. Beginning treatment early is often the best way to preserve your oral health.
To ensure we are as thorough as possible, we will include:
A visual exam of your mouth, teeth, jaw, and face
A periodontal exam
An oral cancer screening
Digital X-rays and intraoral imaging – if necessary
How Can I Care for My Teeth at Home?
Your bi-annual dental visit should not be the only time you think about your oral health. Maintaining a proper at-home hygiene routine is also very important for your smile. Our dentists recommend brushing your teeth at least twice a day. If possible, use a soft-bristled toothbrush and toothpaste with fluoride. Do not brush too hard. Over time this can lead to gum recession and tooth loss. We also recommend flossing every day.
To keep your teeth white, avoid consuming dark-colored drinks like wine, coffee, tea. It is also best to avoid foods with bright dyes. Do not smoke and consume tobacco products. These will not only stain your teeth but may increase your risk for other oral health problems as well.
If you would like to learn more or schedule an appointment, please call us at 937-298-2424. We are excited to help you and your family maintain beautiful, healthy teeth for life!