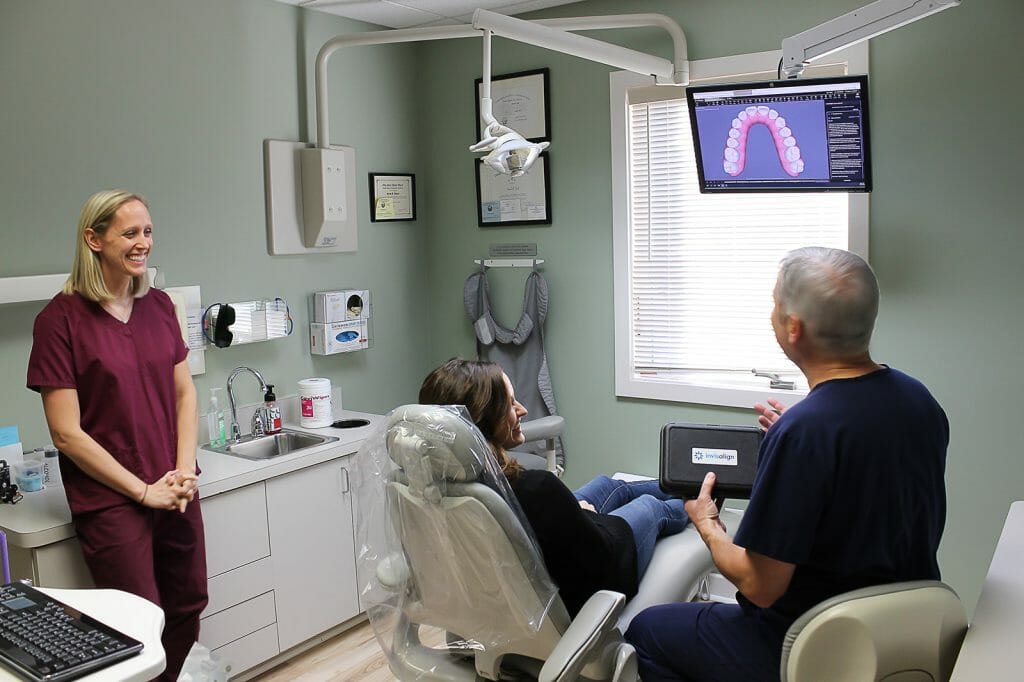 A crooked, uneven smile is often more than a cosmetic issue. Poor alignment can lead to a variety of other oral health concerns. Metal braces are the most common treatment option for crooked teeth. Unfortunately, they are usually expensive, uncomfortable, and take a long time to work.
That is why at Coyne Dentistry, we are excited to offer an alternative! With Invisalign, you can discreetly straighten your smile in as little as two months. Enjoy a beautifully healthy smile with clear aligners!
How Does Invisalign Work?
Unlike traditional braces that rely on metal brackets and wires, Invisalign straightens teeth with a series of comfortable, clear aligners. These aligners are made from plastic and are worn for two weeks at a time. After the first two-week period, you can discard your first aligner and move on to the next one. Over several months, each set of aligners will gently guide your teeth into a better position.
What is the Process?
During your first appointment, we will take a series of detailed intraoral photos of your mouth. We may take digital X-rays as well, though this is generally not needed. Once we have everything we need, we will send your information to Invisalign. Their team will review everything and give you a "case" type. The straightening process will take more or less time, depending on your case type.
Express 5 cases only require two months of treatment. Express 10 requires five months, and a "Full Invisalign" case will take a year. After we have confirmed all of your details, your Invisalign aligners will be delivered and you may begin your treatment.
What Are the Benefits of Invisalign?
Invisalign is one of the fastest ways to straighten your smile. While traditional braces can take more than two years, clear aligners can often achieve the same results in half the time! Some patients only need two months to complete their treatment.
Traditional braces are made from metal brackets and wires. They are difficult to install and can be very uncomfortable. Many patients feel self-conscious with braces, and hide their smile when they are around friends and family. Aligners, on the other hand, can be taken in or out at any time. Because they are made from clear plastic, they are barely noticeable.
As another benefit, you won't have to change your diet with Invisalign! Patients often complain that they cannot eat popcorn, gum, or other favorite foods and candies while wearing braces. With Invisalign, you can take out your aligners whenever you are ready to eat. Once you are finished, brush your teeth, rinse out your aligners, and put them back in place.
Am I a Candidate for Invisalign?
Clear aligners are great for almost everyone! Even teenagers can take advantage of Invisalign. Unfortunately, those with very severe cases of misalignment may not be able to use this product. During your consultation, we will be happy to explain all of the pros and cons of this treatment and determine if you are a candidate.
If you are interested in learning more about Invisalign, call our office at 937-298-2424. Together, we can determine if clear aligners are right for you!