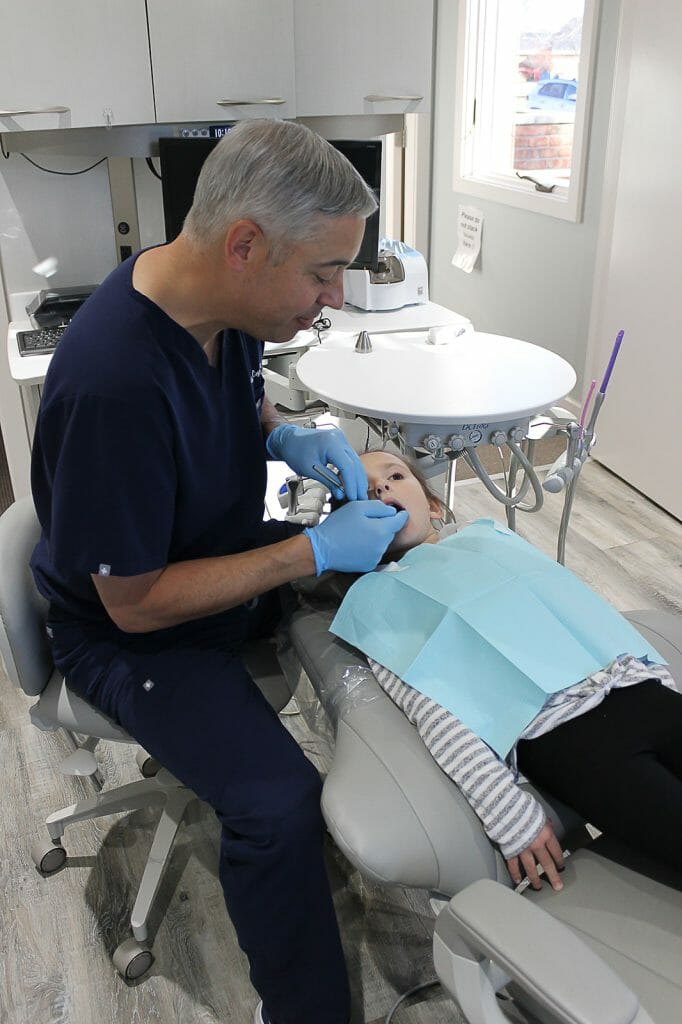 Welcome to Coyne Dentistry! Your first visit is very important to us. This time gives us a chance to learn more about you, your dental health, and your overall health goals.  During your visit, we will talk about your hopes and concerns, look for signs of underlying health problems, and discuss treatments and next steps. We are here to serve everyone – young and old. Together, we can help you and your loved ones achieve a beautiful, healthy smile!
What Does the First Visit Include?
Your first visit will include a consultation and an examination. To begin, we will review your general and dental health information and discuss any concerns you may have. This will help us understand your overall oral health and determine if you are at risk for any particular issues.
Next, we will conduct a comprehensive exam of your mouth, gums, and teeth. We will look for signs of disease, infection, oral cancer, and other dental issues. Depending on your health concerns and medical history, we may recommend digital X-rays or intraoral imaging to help us get a deeper look at your teeth, oral tissues, and jaw bone structure. After your examination, your dentist will discuss his or her findings and will recommend treatment if necessary.
What Should I Bring to My First Visit?
We ask that all first-time patients fill out a medical history form and dental history form before their visit. These forms will ask about your medical history, allergies, current medications, and any dental procedures you have had in the past.
This information will help us get a better understanding of your general and oral health. It will also allow us to look for particular issues you may be at risk for and to make better treatment recommendations. We always follow HIPAA guidelines to ensure your privacy is kept safe.
What Are Your Financing Policies?
Whether you are a new or returning patient, we are committed to helping you afford the treatment you need. At Coyne Dentistry, we accept most major credit cards and dental insurance plans. We will work closely with your insurance provider to ensure you are getting the most from your benefits. Our team will even file your insurance and paperwork so you can focus on your health.
If you do not have dental insurance or your treatment is not covered by your policy, ask us about other financing options.
Thank you for choosing Coyne Dentistry. If you would like to learn more or schedule an appointment, please call our office at 937-247-4363. It doesn't matter how long you've been away from the dentist. We're here for you!