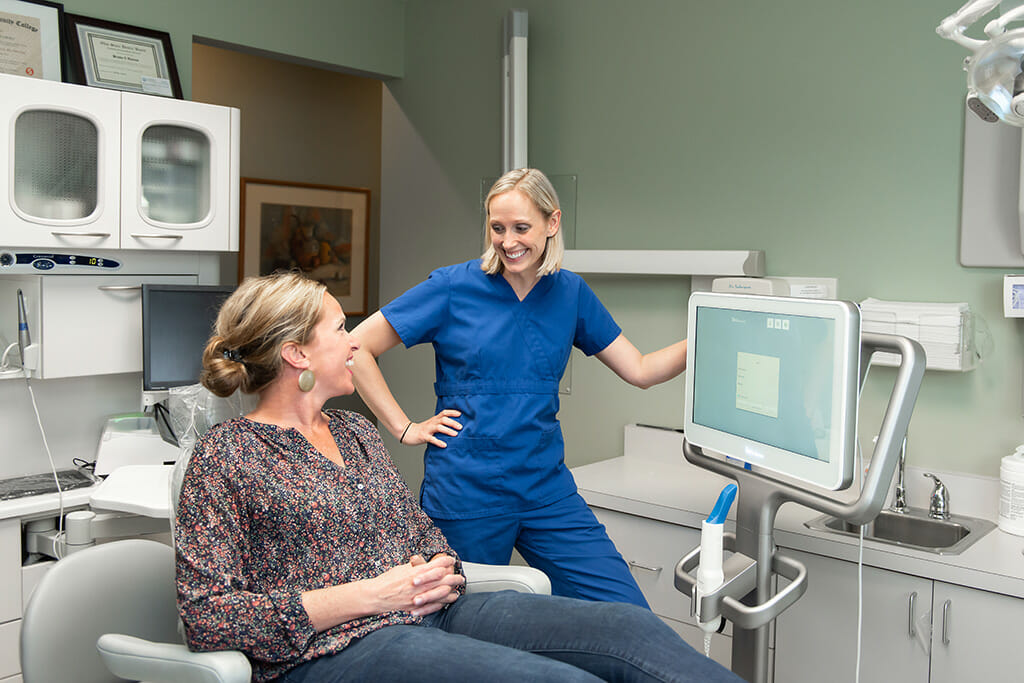 Dental bridges are an excellent way to fill a space left by a missing tooth. They are durable, long-lasting, and look just like natural teeth. At Coyne Dentistry, we can use this treatment to bridge a gap and restore your smile's strength and appearance!
What is a Dental Bridge?
A dental bridge is a restorative treatment designed to replace one or more missing teeth. A bridge consists of three main parts – a replacement crown and two stabilizing crowns. These appliances are made from porcelain or ceramic and are designed to look and feel just like your surrounding teeth.
The middle portion of your bridges is known as the pontic. A pontic is a replacement tooth that does not have a root system. Instead of a root system, it is held in place by the two healthy teeth on either side of the gap. These teeth are topped with crowns that strengthen and stabilize them. Together, the pontic and adjacent teeth "bridge" the gap left by a missing tooth.
Because bridges do not have artificial roots, they must be able to absorb biting pressure without breaking. Since they hang over a gap without support in the middle, several pontics in a row may eventually collapse.  This is why we generally recommend partial dentures to replace more than 3 teeth. Bridges are ideal for replacing a small number of teeth.
Why Should I Replace a Missing Tooth?
Missing teeth can be detrimental to your oral health. Over time, the healthy teeth around a gap will begin to shift and fall into it. This can change the way you bite, speak, and chew. A change in bite can also lead to other problems like TMJ disorder, headaches, jaw aches, etc. A dental bridge will prevent your healthy teeth from shifting and will take some of the pressure off the rest of your smile.
As a bonus, a bridge can beautifully restore your smile's appearance. Many of our patients become self-conscious when they have lost a tooth. Thankfully, dental bridges can seamlessly and discreetly replace missing teeth. They are natural-looking and more stain-resistant than other teeth, so you can show off your smile with confidence!
How Long Do Dental Bridges Last?
Dental bridges can last anywhere from five to 15 years. With good care, many patients can go for more than 10 years without needing a replacement. To ensure your bridge lasts as long as possible, be sure to continue brushing and flossing every day. Bridges need to be cleaned and maintained just like regular teeth.
Although your replacement will be made with high-quality materials, it is still possible for it to become damaged. Try to avoid chewing on hard foods and do not use your teeth to open things.
Please continue to visit us at least twice a year for a routine cleaning and exam. This will give us a chance to check your bridge to see if it needs any maintenance or adjustments.
If you would like to learn more about dental bridges and how we can restore your smile, call us today at 937-298-2424. We are happy to answer your questions or schedule a consultation!